Affordable insurance coverage from the name you trust.
Harley-Davidson® Insurance is quality, affordable motorcycle insurance, backed by quality service and support. A wide range of coverage options are available, designed with the unique concerns of motorcycle riders in mind. Our licensed agents know H-D® motorcycles and will help tailor a policy to your needs with fast, accurate quoting to get you immediate coverage and onto the road.
CHECK OUT THESE BENEFITS
COVERAGES FOR A VARIETY OF MOTORCYCLE TYPES
$1,000 OPTIONAL EQUIPMENT INCLUDED
MONEY-SAVING DISCOUNTS AVAILABLE
H-D® GENUINE PARTS + ACCESSORIES REPLACED WITH H-D® GENUINE PARTS FOR ALL REPAIRS
BODILY INJURY LIABILITY
BIKE REPLACEMENT COST
COLLISION COVERAGE
COMPREHENSIVE COVERAGE
GUEST PASSENGER LIABILITY
MEDICAL EXPENSE COVERAGE
OPTIONAL EQUIPMENT COVERAGE
OPTIONAL EQUIPMENT REPLACEMENT COST
ROADSIDE ASSISTANCE
UNINSURED MOTORIST BODILY INJURY
UNDERINSURED MOTORIST BODILY INJURY
VACATION RENTAL COVERAGE
INSURANCE COVERAGES2
COVERAGES THAT MAKE A DIFFERENCE
With H-D™ Insurance, you can choose from a wide range of coverages to find the best policy and the very best protection available for your motorcycle.
Get A Quote
DISCOUNTS
YOU CAN SAVE IN MULTIPLE WAYS
Harley-Davidson Insurance Services provides the best motorcycle insurance for your ride, and offers a wide range of money-saving discounts on our already competitive rates.
Get A Quote
ANTI-THEFT
BUNDLED PROTECTION
CLAIM-FREE RENEWAL
EXPERIENCED RIDER
H-D™ RIDING ACADEMY
H.O.G.® MEMBER
HOME OWNERSHIP
MILITARY AND LAW ENFORCEMENT
NEW BIKE
PROMPT PAYER
RENTAL COVERAGES
NEVER MISS A MINUTE ON THE OPEN ROAD
H-D™ Insurance offers optional Rental Reimbursement Coverage and Vacation Rental Coverage in its policies so you'll never be without a ride! And don't forget that rider groups, including Club EagleRider members and H.O.G.® members, receive a discount on their H-D™ Insurance3.
RENTAL REIMBURSEMENT COVERAGE
VACATION RENTAL COVERAGE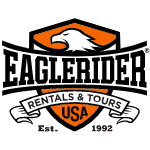 The exclusive U.S. provider of rentals and tours for Harley-Davidson Motor Company.
Get your motorcycle insurance from the people that know motorcycles. We're ready to ride—are you?
Visit or call 866.801.9186 for a quote today!
Get A Quote
MOTORCYCLE INSURANCE FAQs
YOU'VE GOT QUESTIONS, WE'VE GOT ANSWERS!
2 Coverages and requirements vary by state.
3 Not available in CA, NY, or TN. Limit one Rider Group Discount per policy.
Quote provided through Harley-Davidson Insurance Services, Inc., a Nevada domiciled insurance agency (NV#5597). Harley-Davidson Insurance Services insurance products are underwritten, and claims are handled, by a member of the Sentry Insurance Group, Stevens Point, WI. Policies, coverages, benefits, and discounts are not available in all states. See policy for complete coverage details. ©2021 H-D, all rights reserved. Harley-Davidson, H-D, HD, Harley, the Bar & Shield logo, Harley Chrome and MotorClothes are among the trademarks of H-D U.S.A., LLC.